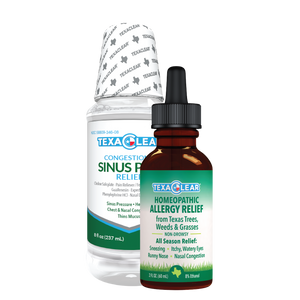 DESCRIPTION
If you suffer from severe nasal congestion this is the bundle for you. Complete with our powerful Congestion & Pain Sinus Relief 
SINUS RELIEF
TexaClear® Congestion & Pain Sinus Relief formula alleviates the pain associated with sinus pressure and headache, while opening up nasal passages and relieving congestion. This TexaClear® formula contains a dual-action liquid anti-inflammatory pain reliever that works fast to reduce sinus pain when it feels at its worst.
Relieves: Headache, Sinus Pressure, Nasal Congestion, Thins Mucus, Chest Congestion
Click here for full Drug Facts
HOMEOPATHIC DROPS
TexaClear® Natural Allergy Relief Drops are a gentle, sublingual formula that help to relieve sneezing, itchy, watery eyes, runny nose, and nasal congestion. Designed for all season Texas allergy relief.